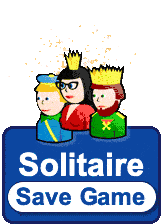 Klondike solitaire is played with a 52 card deck.
The objective of the game is to move all cards to the top foundation piles.
These piles are built upward in card suit from Ace to King.
There are 7 tableau columns that are built in decreasing rank, from King to Ace in alternating colors (black / red).
Empty columns can only be filled with a King or a stack of cards with a King at the top.
Partial and complete stacks can be moved across columns if they are built in sequence and alternating color.
Face down cards should be turned face up in the tableau.
Move a card / stack of cards by tapping or dragging it.
Tap the deck of cards (stock) to turn over 1 or 3 cards to the waste pile.
The top card in the waste may be played.
When the stock is empty, tap the empty stock to return waste cards to the stock and deal again.
Solitaire

Add icon
for instant play